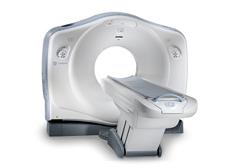 CT
Computerized tomography (CT) scanners take pictures of structures within the body. A computer combines the data from multiple X-ray images and turns them into pictures to examine the patient's body.
Aquilion 16 is a whole-body CT scanner that provides uncompromising image quality and outstanding clinical performance.
The Emotion 6 uses Siemens' CARE Dose 4D system, which reduces the average dose around 68% less than the conventional scan.